by Michael John Jaeger
What does dropping pens out of an airplane in Europe in the 1930s have to do with the history of aviation in southern Wisconsin? Read on for some thoughts.
Last month I looked at the U.S. air mail system in early 1922. Air mail was one of the significant commercial forces aiding the early development of aviation. In the early 1920s there were few uses for airplanes outside the military realm. This month I'll highlight some magazine comments on other ways airplanes were starting to "earn their keep" in 1922, then later in 1932.
100 YEARS AGO: Selling by Airplane
The February 6, 1922, issue of Aviation (a precursor to the current Aviation Week and Space Technology magazine) includes an article on "Selling by Airplane." New York company Aerial Sales Services, Inc. is featured; they helped other manufacturers increase sales by using aviation for both demonstrating goods and for advertising.
Demonstrating manufactured products is an interesting component to this company's approach. It argues that "what works well on an airplane is sure to function well on the ground." Therefore, it features a clients' product in the aviation setting, helping to build "confidence" in the product. For example, a clock intended to be used in cars was demonstrated on an airplane, and in "recent altitude tests it was proven that this clock withstands vibration, climatic changes and other experiments which an airplane can inflict upon an innocent device, and still keeps time at altitudes which many other clocks have not been able to withstand." A great sales pitch to use if you're selling clocks to be used in more benign settings such as a car or desk.
The second component to Aerial Sales Services' approach: Aircraft use by salespeople not only cuts down travel time to cover sales territory, but also results in significant advertising for the company, at a time when arrival by aircraft was something that would appeal to headlines and potential customers alike. The free publicity and saved time more than made up for the added expense air travel.
90 YEARS AGO: Aircraft at Work
A column titled "Aircraft at Work" was published in the February 1932 issue of Aviation. This column described three examples of airplanes in business. I'll just briefly describe the first two, but the third has a local connection and is an outstanding example of the sales concept highlighted from the 1922 "Selling by Airplane" article.
The first example: A fish market in Fresno California that used an OX-5 powered Travel Air (similar to the one in the Kelch collection) and a Swallow biplane to deliver fresh fish the 120 miles from the Pacific coast to Fresno. This took about an hour and a quarter, compared to six hours by truck (there was no suitable rail service available). The fish shop then delivered the fish to their customers' houses via motorcycle or auto. The fish transported this way were all based on pre-orders and the fish market considered the business a success.
The second example was a doctor in Nebraska treating patients throughout a 200 square-mile territory. He felt that traveling by plane saved considerable time compared to driving. Given the flat terrain of his Nebraska territory he often landed off-airport close to his patient's homes. He owned about a dozen planes over about the same number of years, starting with a Curtis Jenny and evolving to a closed-cabin Monocoach at the time of the article.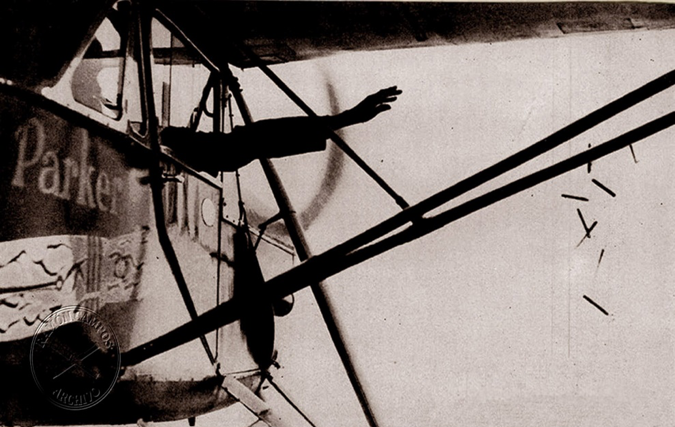 The third example from the "Aircraft at Work" column involved the London subsidiary of the Janesville, Wisconsin based Parker Pen Company. The London firm carried out what it described as a "very successful sales promotion effort" using a de Havilland Puss Moth biplane. The plane flew through fourteen European countries, covered 29,500 miles, and landed at 68 locations. The name Parker Duofold (a successful fountain pen model) was painted in large letters on the fuselage, along with large images of pens. The article noted that "These decorations appeared conspicuously in the hundreds of photographs made at the various stops." It also noted that "Generous newspaper space was obtained and the campaign attracted much attention." I've included a photo of Duofold pens being tossed out of the Puss Moth, intended to demonstrate that the pen's barrels would not break when dropped from a considerable height.
More about the Parker Pen Company
This 1932 note about then European advertising campaign sparked my interest in the Parker Pen Company, so I poked around a bit to see what else I could find. The company's website, parkersheaffer.com, has a fascinating discussion of the Parker's long ties with aviation, including other examples of its use of planes to promote products.
This Saturday Evening Post advertisement from 1926 shows Parker pens being dropped from a plane. The ad, trumpeting "Non-Breakable Barrels," states that "the Parker Duofold Pen was tossed from an aeroplane at dizzy height to test our new material 'Permanite,' and landed 3,000 feet below—unharmed." This is a great example of Aerial Sales Services's aforementioned argument that aviation can be used to build confidence in products intended for less taxing uses.
The Duofold Pen was an important product for the Janesville-based company. The first plane owned by Parker was a Fairchild FC-2W2, an enclosed cabin monoplane with five seats. It was painted in the pen's colors and carried the name "Parker Duofold" in large letters on the fuselage and wing. As part of an advertising campaign, Parker Pen offered airplane rides to its dealers and their families in all 48 states. An invitation to fly in the plane noted that it "…represents the latest development in commercial aviation … is equipped with every device for comfort and safety, and no expense has been spared to make it the finest craft of its kind in America."
Over 14,000 people were given airplane rides, and for many of them it was their first experience in an airplane. Again, this is another great example of the business benefits of using aircraft originally outlined in the 1922 "Selling by Airplane" article.
I encourage you all to look further into the story of Parker Pen and aviation on the company's website. An interesting story from just 20 miles away from the Brodhead Airport!
Michael John Jaeger is a former pilot, current aviation nerd, and indispensable Kelch Aviation Museum volunteer. His historic articles are published here monthly. Visit the museum on a Saturday to say hi in person!